Environmental footprint
Environmental footprint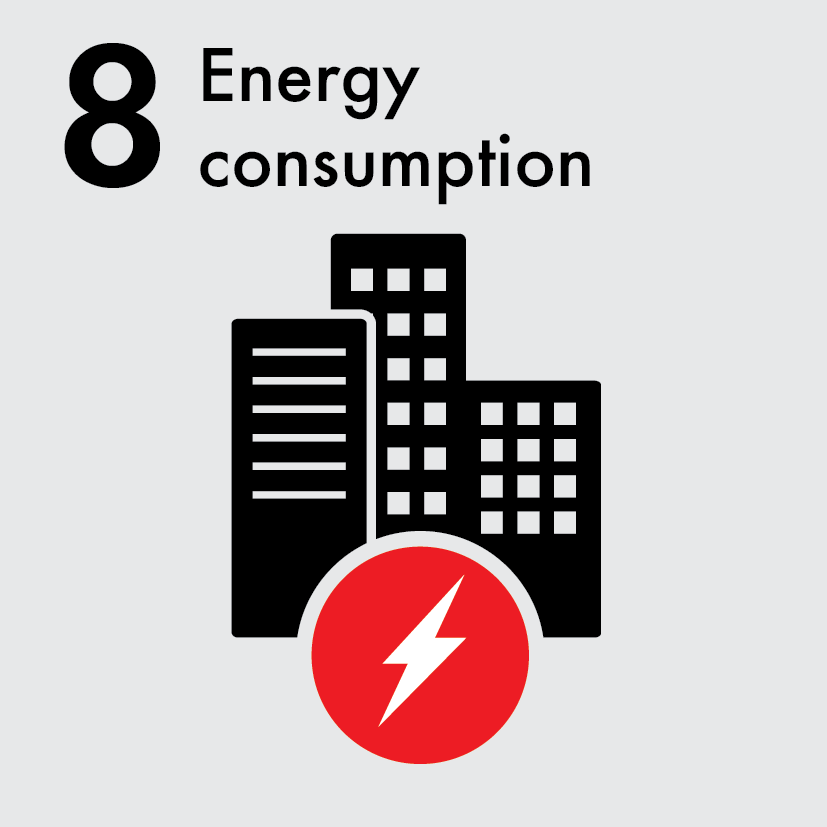 Our environmental footprint is determined by the amount of energy we consume. In our 2020 Materiality Analysis, energy consumption is considered the eighth most material topic.
We manage our environmental impact by:
reducing our overall energy consumption;

introducing energy-saving technology such as LED lighting with smart switching controls;

decreasing fossil fuel consumed by our fleet;

procuring a larger portion of the energy we consume in our parking facilities and offices from renewable energy sources;
We report greenhouse gas (GHG) emissions according to the GHG Protocol, on scope 1, 2 and 3.
Energy efficiency
Q-Park is a large consumer of electricity, both for lighting and operational equipment, as well as for charging electric cars. We have an energy-saving programme in place to implement measures for reducing energy consumption, demonstrating clear benefits – in financial terms as well as in our environmental impact.
For example, lighting is automatically dimmed to emergency levels and switch to brighter lighting when movement of cars or pedestrians is detected. We also take simple operational measures to decrease energy consumption by temporarily closing off parking decks in quiet periods.
Results
In 2020 the total amount of energy, measured in GWh, that we consumed in our owned and long-leased parking facilities (OLL PFs) decreased by 19.3%.
Chart 17

Total GWh consumed by OLL PFs
---
LED programme
Over the past few years, we have invested considerably in refitting our parking facilities with energy-efficient LED lighting. The accelerated investment enabled us to achieve ongoing savings and a lasting reduction in our carbon footprint.
Our quality LED lighting with smart controls provides good lighting levels in all areas of our car parks. We have more light in pedestrian areas and lower light levels on the parking decks. Smart controls mean we can easily switch off lighting in parts of a car park that are not being used.
Results
In 2020, we fitted another 64 of our parking facilities with energy-saving LED lighting. The chart shows cumulative numbers.
Chart 18

PFs with energy-saving LED lighting
---
LED - Proven energy efficiency.
Click here for our LED showcase.
Emissions
Q-Park wants to contribute to lowering CO2 emissions as this contributes to the general quality of life, and that in urban areas in particular.
There is however a dilemma regarding the CO2 footprint. On the one hand we are working hard to reduce our kWh consumption through our LED programme and other energy-saving measures. On the other, the more our customers use our EV charging points, the more kWh are added to our consumption.
We seek to collect and analyse the kWh used for EV charging and report this separately as of 2021. This data can then be used to calculate the carbon footprint related to EV charging.
Results
In 2020 we further reduced our carbon footprint per parking space in owned and long-leased parking facilities by 13.3% compared to 2019. This further reduction can be attributed to our LED programme and operational measures designed to increase overall efficiency.
As a consequence of the coronavirus pandemic measures taken throughout Europe in 2020, car park occupancy was considerably lower than forecast. Naturally, this has also had an impact on our energy consumption and CO2 emissions.
The charts in this section show a continued downward trend in all emissions in 2020.
Chart 19

CO2 emissions (tonnes) per type of structure
---
Chart 20

CO2 emissions (kg) per parking space per type of structure
---
Chart 21

Total greenhouse gas emissions (GHG) in tons CO2
---
Our car fleet
Our car fleet is slowly changing as we replace diesel cars at the end of their useful life span.
Results
In 2020 we retired another 22 diesel cars as their lease contracts expired. These vehicles were replaced with a mix of petrol, hybrid and all electric vehicles. Our fleet now consists of 17 PHEVs and 62 EVs.
Chart 22

Car fleet composition
---

With our efforts to reduce our CO2 and GHG emissions and the reduction in our overall CO2 footprint, we are contributing to SDG 7.